The restaurants in the Benihana chain have two different owners, divided by territory. Defendant Benihana, Inc. ("BI") owns the BENIHANA trademark in the United States, Central America, South America, and the islands of the Caribbean, the "Territory." Plaintiff Benihana of Tokyo, Inc. (alert! noisy autoplay link) ("BOT") owns the rights to the BENIHANA trademark outside of the Territory. The Amended and Restated Agreement and Plan of Reorganization ("ARA") described their mutual obligations: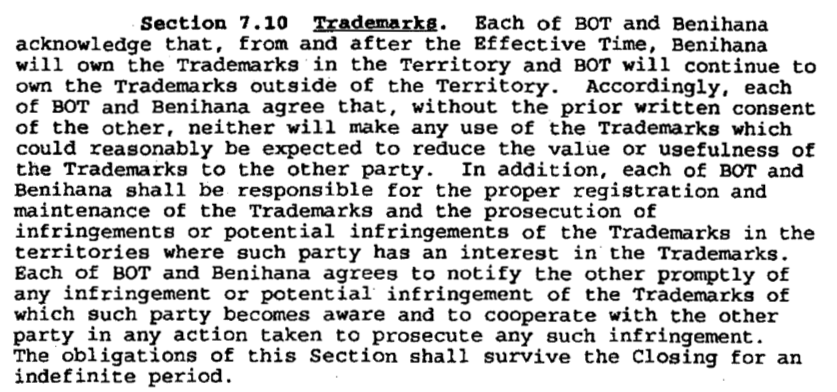 If you can't read it, it says:
[E]ach of BOT and [BI] agree that, without the prior written consent of the other, neither will make any use of the Trademarks which could reasonably be expected to reduce the value or usefulness of the Trademarks to the other party. In addition, each of BOT and [BI] shall be responsible for the proper registration and maintenance of the Trademarks and the prosecution of infringements or potential infringements of the Trademarks in the territories where such party has an interest in the Trademarks.
The agreement also provided that there would be irreparable damage if any provisions of the agreement were not performed and that the parties would be entitled to specific performance.
BI, through its subsidiary defendant Noodle Time, Inc., filed an application for an International Registration extending to Iceland, Iran, Monaco, Singapore, Ukraine, Vietnam and Zambia—you will notice these are not in the Territory. BOT sued, BI filed a "Request for the Recording of a Renunciation" for the BENIHANA trademark and another logo registration, and told BOT it would not pursue registration in any countries in BOT's territory. Nevertheless, BOT proceeded with a claim for recission of the ARA.
And here's the simple lesson: registration ≠ use
The agreement didn't say the parties couldn't register outside of their territory, just that they couldn't use the mark outside of the territory, so there was no breach. In the context of the entire contract, "the plain meaning of 'use' is unambiguous and does not encompass 'registration' or 'attempts to register' Trademarks." So if you're dividing ownership, include a provision prohibiting registration outside of the party's territory too.
Benihana of Tokyo, Inc. v. Benihana, Inc., Civ. No. 10-1051-SLR (D. Del. July 22, 2014).

The text of this work is licensed under a Creative Commons Attribution-No Derivative Works 3.0 United States License.