July 7, 2020: Updated to add footnote 2.
Section 32 of the Lanham Act is for infringement of registered trademarks. The section says that the liability for infringement is to the "registrant." That category undisputedly includes a successor-in-interest, such as an assignee. A minority of courts have also held that "registrant" encompasses an exclusive licensee, where the licensee has property rights that amount to those of an assignee. Upper Deck Co. v. Panini America, Inc. takes this one step further, though.
The parties are both trading card companies. Upper Deck is an exclusive licensee of Michael Jordan. Panini America had licenses from other NBA players, including Scottie Pippin and Dennis Rodman. Panini published a card for Pippen and then republished it with Jordan in the background. You can see a very small Jordan in the bottom right corner of the card: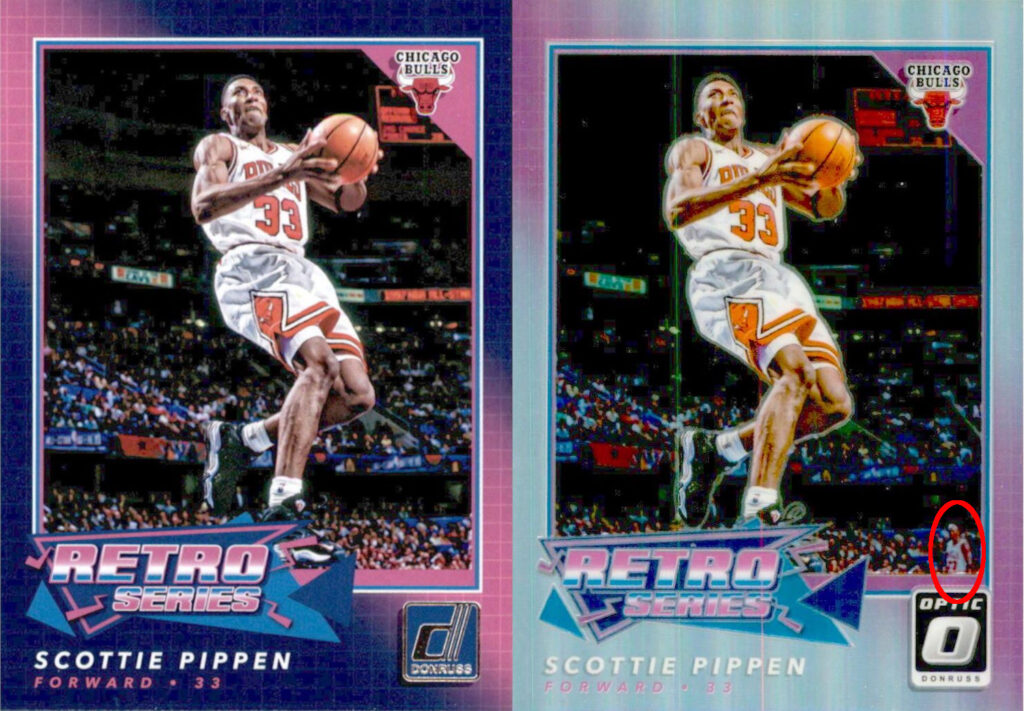 Panini also published a card of Rodman with Jordan in the background: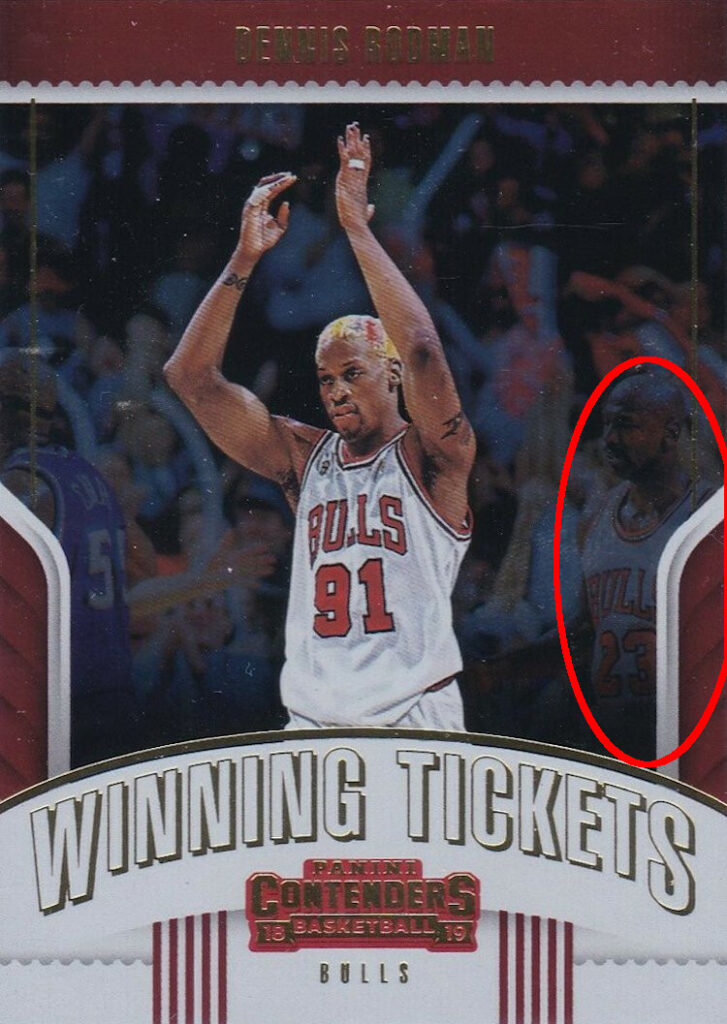 Upper Deck sued Panini for the kitchen sink of claims and Panini filed a motion to dismiss. Of interest here are the claims for infringement of a federally registered trademark, federal dilution, and the common law and statutory right of publicity under California law. They are of interest because for all of the claims, the plaintiff has to be the owner of the rights infringed.
Upper Deck had pleaded that it was an exclusive licensee of Jordan's rights to his "image, name, likeness, marks, and other rights" in only some fields of use, that is, "among other products, trading cards." Jordan owns, and has owned since 1988, the trademark in his name.12 Upper Deck also pled that the agreement assigned to Upper Deck the "right to commence an action relating to a third party's infringing use of Jordan's rights granted under the agreement." And based only on those allegations, the court bought Upper Deck's argument that it had standing for claims for these causes of action.
I'm not so sure. The concept as I understand it is that, for standing, the rights granted must be equivalent to an assignment in all but name. "The [] question is whether [the plaintiff's] exclusive license was tantamount to an assignment." Innovation Ventures, LLC v. Pittsburg Wholesale Grocers, Inc., No. C 12-05523 WHA, 2013 WL 1007666, at *5 (N.D. Cal. Mar. 13, 2013). "An 'assignment' of a mark … is an outright sale of all rights in that mark, [and] a 'license' of a mark … is a limited permit to another to use the mark." Id. at *3 (quoting 3 McCarthy on Trademarks and Unfair Competition § 18:1 (4th ed.)).
If there is such a thing as an exclusive license that is in effect an assignment,3 that's not what happened here. Upper Deck did not allege that it had all rights to the MICHAEL JORDAN mark, just a subset, for trading cards. The opinion acknowledges that there is no trademark registration for trading cards. The only potentially relevant registration I could find is a registration for MICHAEL JORDAN for "promoting the goods and/or services of others through the issuance of product endorsements" (Class 35, for those of you interested). Upper Deck did not claim that it has the exclusive right to grant licenses to Michael Jordan's endorsement rights, so it is not an exclusive licensee of this registration.
The court did not cite to any opinion where an exclusive licensee had standing for only a subset of the goods or services with which a mark was used, and in fact ignored the cases holding that a licensee of the right to use the mark for only some goods does not have standing. Lasco Fittings, Inc. v. Lesso Am., Inc., No. EDCV 13-02015-VAP(DTBx), 2014 WL 12601016, at *4 (C.D. Cal. Feb. 21, 2014); Nova Wines, Inc. v. Adler Fels Winery LLC, 467 F. Supp. 2d 965, 974 (N.D. Cal. 2006). The opinion upon with the court relied most heavily was a territorial license, for the entire territory of the United States, including allowing the licensee to register the mark. Ultrapure Sys., Inc. v. Ham-Let Grp., 921 F. Supp. 659, 665 (N.D. Cal. 1996).
While it's an interesting extension of standing for registered trademarks, I don't think the decision withstands scrutiny, and may only have survived a motion to dismiss because the license agreement was not part of the pleadings. Federal dilution and the state right of publicity claims also require ownership, so these claims were not dismissed either.
Upper Deck Co. v. Panini Am., Inc., No. 20CV185-GPC(KSC) (S.D. Cal. Jun 29, 2020).

This work is licensed under a Creative Commons Attribution-NoDerivatives 4.0 International License.
---
The owner of the registration is "Jump 23, Inc." Throughout the opinion the court referred to Michael Jordan only, not mentioning Jump 23. ↩
A sharp reader pointed out that there does not appear to be any allegation of infringement of Jordan's name, only his image. I could not find a registration for Michael Jordan's image. The complaint alleges "Based on the above examples [the trading cards], there can be no doubt that Panini uses Jordan's distinctive and valuable marks in its product, i.e., Jordan's picture, his famous jersey number"23," his most recognizable team name Bulls, and the distinctive color patterns red or red/white associated with Jordan" without mention of his name. ↩
McCarthy even disagrees that an exclusive licensee, even if "tantamount to" an assignee, can have standing. J. Thomas McCarthy, McCarthy on Trademarks and Unfair Competition § 32:3 (5th ed. June 2020 update). ↩